Bio
Introducing Thea May, an extraordinary singer and songwriter hailing from Atikameksheng Anishnawbek in what is now known as Northern Ontario. With a deep-rooted love for pop and hip-hop, Thea has carved her own unique path in the music industry. Her forthcoming EP, titled CONSCIOUS, is set to release its first single on Indigenous Peoples Day 2023 (June 21st), marking a significant milestone in her artistic journey. Howling Turtle, the renowned record label founded by Toronto-based Mohawk-Caribbean musician Julian Taylor, recognized Thea's exceptional talent and partnered with her to unleash her creative potential. Distributed by Warner Music Canada, her music reaches a diverse audience eager to experience her dynamic fusion of genres.
Thea's musical prowess has already made waves in the industry. Her collaborations with Metis rapper Troy Junker, including the chart-topping hits "Runaway" and "Note to Self," have earned her recognition on the Sirius XM Indigenous Music Countdown. The latter even soared to the coveted #1 spot. Additionally, Thea has collaborated with esteemed artists such as Willa, known for co-writing the Grammy-nominated "Slow Song" by The Knocks and Dragonette. She has also worked with David Ariza, a renowned producer and engineer associated with Tanya Tagaq, Myles Castello, and Charmaine. Notably, Thea has joined forces with Adrian X, a member of the Grammy-winning team behind Drake's acclaimed album 'Take Care.' Her recent collaborations with Liz Lokre and John Dinsmore have further elevated her talent to new heights.
In December 2021, Thea experienced an immense personal loss with the passing of her boyfriend, Keenan MacLean-Hill. This tragic event became a catalyst for her artistic transformation. As she navigated the depths of grief, Thea found solace in her art and embarked on a musical exploration that led her back to her folk and rock roots. Drawing inspiration from legends such as Stevie Nicks, Janis Joplin, Taylor Swift, and Lucinda Williams, she embraced these influences to authentically express her emotions through her songs. Thea May's music now encompasses a profound depth and vulnerability, capturing the essence of her journey through grief and self-discovery.
With her forthcoming EP, CONSCIOUS, Thea invites listeners to join her on a cathartic sonic experience, where the power of music becomes a transformative force. Her artistry resonates on a soulful level, touching hearts and inspiring others to find healing through the power of expression.
Exciting developments continue to unfold in Thea May's career as she has recently secured management under the guidance of Scotty Taylor. As a respected music supervisor, producer, and copyright acquisition specialist, Scotty brings decades of experience to the table. He is a member of the Guild of Music Supervisors US and a founding member of the Guild of Music Supervisors Canada. Leveraging his deep working relationships with folk music luminaries in both Canada and the United States, Scotty is actively working to propel Thea's career forward, facilitating high-profile collaborations and maximizing her artistic potential in light of her recent and forthcoming successes. Thea May's journey is one of resilience, artistry, and boundless potential. With CONSCIOUS on the horizon and an expert team guiding her path, she invites you to join her as she reaches new heights in her musical odyssey. Stay tuned for the release of CONSCIOUS and witness Thea May's ascent as a powerful voice in the industry.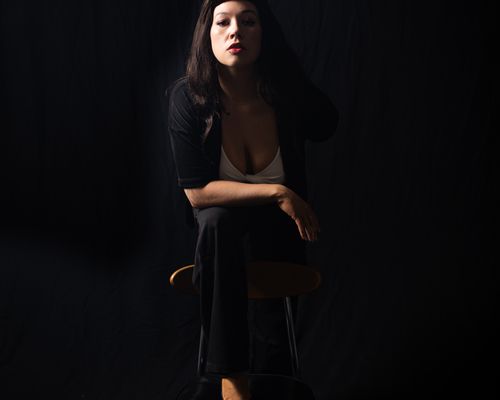 Thea May
"They became iconic, in love, in tragedy, in choice, and in pain. They made light from darkness everytime, working together even worlds away. Truth is, He never really left, she just works harder to see him, but when she closes her eyes, he's always right there."
- Soulmates